Monday, February 20, 2012
Anything Goes at Eye Heart Monday's
I'm sorry for putting this up so late. I've just been kind of stuck in bed since last night from really bad back pain. I've been doped up on T3's and Advil. All I want to do is sleep. Thank goodness it's a long weekend for us. My hubby went to his dad's place with the kids so I had some quiet time.
Here are last weeks features. I'm going to make it quick this week as my eyes really just want to shut and catch some zzzz's.
Free Family Fun
Fork Fabrikationz
If you were featured don't forget to grab a feature button, below.
And now for the fun!!! The time has come to link up to Anything Goes at Eye Heart Monday's.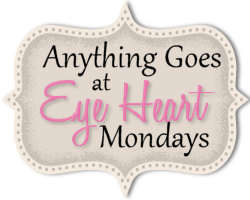 Linky Party Rules:
1. Link to a specific post on your blog (but not your home page) for pretty much anything new and fresh you would like to share every week as long as it's family friendly. You can link your sewing, craft projects, recipes, photos and giveaways. Anything Goes and we want to see it! The link party will be open every Monday.
2. Please follow me on my blog and while you're here it would be lovely if you also followed me on Facebook, Twitter, Pinterest and LinkedIn (but it's not a must). Please link back using my button above by posting it on your post or on your home page. Let everyone see where you've been and share the fun.
3. Check back the week after to see if you were featured.
4. Visit some of the other blogger's posts and share the party love because after all it's all about getting to know one another and because you might just make someones day extra special.
5. Link away and have fun.