Monday, January 09, 2012
Quilled Letter "B" & A Surprise
While Pinteresting the other day I Pinned a letter that I saw which looked so amazing to me. It's from
Hello Hydrangea
. You should definitely go over there and have a little visit because their blog is incredibly inspiring. They have so many things that I have on my "To Do List" now.
A few weeks ago I bought a letter "B" which I was planning on putting in Lumpy's room but I wasn't too sure what I was going to do with it. Then when I saw this letter I knew and I just had to start on it right away. Jammer helped me make the quills and he had so much fun. He rolled the paper while I glued them on. It was a nice time bonding and crafting together.
This is what our quilled letter looks like. It's pretty simple as we only made twirls and curls but we are pretty happy with the result. There are a few things that I think I may do different next time. I got a little excited and laid the paper on the letter much too fast so if you look closely you will see where the paper was a little too short and the white paint on the letter is peeking through. Also I cut the paper for the quills too thinly. Thirdly the big fat jumbo glue gun I have was a little too much for this project so you can see the glue more than I like. It was fun doing though and I am getting a kit so that I can do it better next time. Jammer and I used pencils and thin paint brushes to roll the paper. It worked but we'll get technical next time.
I'm so excited about quilling and blogging that I may just have to do a little giveaway.
To read more about the giveaway go
here
.
This is where I was featured:
This is where I've linked: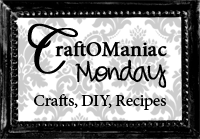 />